You are here:

> Trogir > EXCURSIONS > Adventure > Quad & buggy adventure
Quad & buggy adventure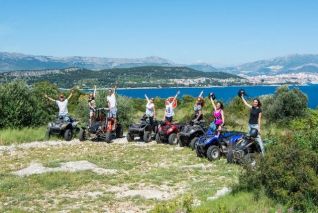 + add to wishlist
Quad & buggy adventure
10:00, 14:00, 18:00
2,5 h
Mon Tue Wed Thu Fri Sat Sun
0,00
Quad adventure across the island - 25 km of off road adventure across beautiful und touch nature of island Ciovo
Prizidnica Monastery - the small church and monostry build in the 16th century, in the harmony of the ston cliffs, the sea and forests. Is the cultural and history pearl of Slatine vilage.
Panoramic view of Trogir, Split, island of Šolta, Brač and Hvar - most beautiful view in midle Dalmatia from the top of the hill in the island of Čiovo.
Our qualified safety instructor will introduce you to the safe and fun way of exploring our magnificent wilderness upon your very own Quad or Buggy. Riding through the unique Dalmatian bushland and mountain trails is an exciting way to experience the beautiful scenery that Dalmatian coast has to offer. The meeting point is in the small village - Žedno. There we start off on a ride across mountain trails through the wilderness situated on the picturesque top of the Island Ciovo and arrive at old Prizidnica Monastery - our first stop. Then we will drive to a mountain peak where we will be able to see a magnificent 360 degree panoramic view of the islands, Split town, sea. Than we are arriving on the most beautiful beach of whole Čiovo Island were we will have some free time for swimming and relaxing, after the break we are on the road again exploring the most scenic and rural part of Adriatic coast. After 2 hours of a real adventure we are driving back to our meeting point.
10:00 - first group
14:00 - second group (including swimming)
18:00 - third group
We recommand that you take with you closed shoes, sports clothes, sun cream and sun glasses.