You are here:

> Trogir > ACCOMMODATION > Hotels > TRO-SVP
TRO-SVP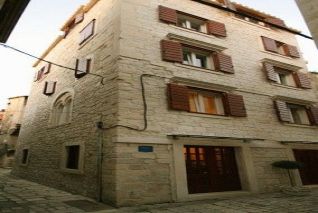 + add to wishlist
| | |
| --- | --- |
| Accommodation name: | TRO-SVP |
| Location | Trogir |
| Stars: | |
| Sea distance: | 50 m (cca) |
| Distance from town: | /m (cca) |
| Max. capacity: | 12 |
| Rooms number: | 5 |
Distances
| | |
| --- | --- |
| To the sea: | 50 |
| To the beach: | 500 |
| To the town center: | /m |
| To the grocery store: | 400 |
| | |
| --- | --- |
| To the restaurant: | 5 |
| To the pharmacy: | 25 |
| To the gas station: | 3 k |
| To the bus station: | 400 |
| | |
| --- | --- |
| To the airport: | 8 k |
| To the ferry port: | 28 k |
| To the agency: | 400 |
Hotel facilities
Information about hotel
| | |
| --- | --- |
| Max. capacity: | 12 |
| Number of rooms: | 4 |
| Number of apartments: | 1 |
| Apartment capacity: | 2 + 2 |
| Apart.with sea view: | / |
| | |
| --- | --- |
| Air-conditioning: | yes |
| Heating: | yes |
| WLAN Internet: | yes |
| SAT/TV: | yes |
| Safe: | yes |
| | |
| --- | --- |
| Baggage storage: | yes |
| Room servise: | yes |
| Breakfast in room: | yes |
Hotel accommodation
Prices
| | | | | | | |
| --- | --- | --- | --- | --- | --- | --- |
| /day | | 01. 04. - 01. - 06. | 01. 06. - 30. - 06. | 01. 07 - 31. 08 | 01. 09 - 30. 09 | 01. 10 - 31. 10 |
| Duble room | | 0,00 | 0,00 | 0,00 | 0,00 | 0,00 |
| Apartment 2 per | | 0,00 | 0,00 | 0,00 | 0,00 | 0,00 |
| Apartment 4 per | | 0,00 | 0,00 | 0,00 | 0,00 | 0,00 |
*Breakfast is included in price
*Turist tax is not included in price
Trogir
GEOGRAPHICAL POSITION

Trogir is an island with one of the biggest historical heritage in the world, abound in beauty and history and it's protected by UNESCO. It is located in central Dalmatia, northwest part of Kaštela bay, between Split (21 km) and Šibenik (56 km). Airport Split vicinity (4 km), highway exit A1 (15km), ferry port Split (25 km) and excellent bus connection with the surrounding places, make Trogir accessible and open from the land and sea. Due to its location and natural protection, its nautical port is a favourite destination.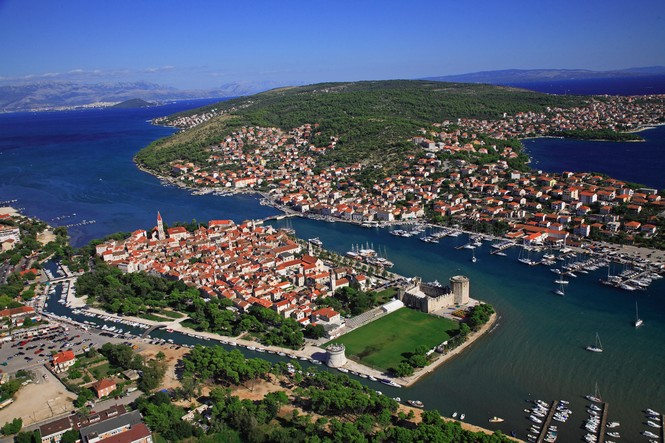 HISTORICAL MONUMENTS

St. Lawrence Cathedral with its majestic portal of Radovan, priceless collection of the Chapel of st. Ivan Trogirski and gothic church bell make the local people very proud.
Most of the town walls, once used as a protection are preserved, forming, in the 13th century, the old center of Tragurium. The Kamerlengo Tower and St. Mark's Tower still dominate among the walls.
Sea entrance to the town is the South Town gate, huge wooden gate, reinforced with pins, preserved from 1593, proved by the sign above it. The North entrance is through reneissance Town gate guarded by St. Ivan Trogirski, protector of the town.
St. Sebastian's votive church is built on the main town square in the middle of the 15th, as a gratitude for saving the town from plague. Instead of the church bell there is an impressive tower with town clock.
Town lodge, next to the votive church, was once a public object, shelter, meeting place and a court room. Rich relieves were made by Nikola Firentinac and Ivan Meštrović.
Small and big Ćipiko palaces are set of buildings (palaces) built by a prominent family Čipiko from Trogir. Gothic trifora, the work of Andrija Aleši, adorns the front of the big palace, doors were carved by Ivan Duknović, and the south portal is work of Nikola Firentinac.
Town Hall was first mentioned in the 13th century, and got back its reneissance charm after reconstruction during the 19th century.
Town musem is located inside the Palace Garagnin – Fanfogna. It used to be a residential and economic complex, of very influential and rich family of Trogir, with romanesque and baroque characteristics.
While walking through the narrow streets of the town you can come across Kairos, God of lucky moment... According to legend, whoever manages to grab his curl will have lucky moments of eternal beauty. In case you do not find it, this bronze relief and symbol of Trogir is the most valuable part of St. Nicholas monastery collection.
LEISURE TIME

Trogir is a lively Mediterranean town that offers numerous vacation possibilities, adventures and a lot of fun. Enter through the old town gate, take a walk through the town and let your imagination take you to historical times. Relax on the main town square, enjoy the view of the cathedral, town clock and palace while having a cup of coffee in a coffee bar Corte, very popular among local people. If you would like to find out more about the history of Trogir, we recommend taking a guided tour. While passing through the town a tour guide will take you to historical times by retelling the stories and legends of Trogir. Climb up to the church bell of St. Lawrence cathedral and enjoy the unique panoramic view of Trogir and its surrounding. Let the food odour take you to the garden of famous tavern Capo where you can try local Dalmatian cuisine or let the hospitable staff of the restaurant Don Dino help you choose the specialities and quality wines from their rich menu.
Nowhere in the world you can find a town that magical at night time...Stone walls become alive under the street lights, and Dalmatian songs are heard from every corner.
If you prefer the rhythm of modern music and having fun all night, visit disco bar Padre located between the old town walls or dico bar Manaco across the bridge on the island of Čiovo.
Trogir is a suitable destination for those who like adventures exploring of the coastline of Trogir and Dalmatia. Take a bike or scooter ride across the big bridge to the island of Čiovo. Admire the scharm of fishing places, untouched pine woods and crystal clear sea. Numerous little bays with amazing beaches are on your way to Slatine. Take a walk to the small church Gospe od Prizidnice, and visit a beautiful beach Kava on the eastern part of the island. If you search for adventure and fun Okrug Gornji is a place to be. You cannot miss the Copacabana of Okrug. Enjoy water sports and all the fun this beach can offer.
Regular daily boat line Bura line departs from Čiovo, just across the bridge, and on its way to Split takes you to Slatine. You can reach Okrug Gornji by small boat that departures from Trogir waterfront (riva) every 15 minutes during the summer season.
Rent a boat and explore the nearby islands when the sea is calm. Enjoy the picturesque islands Fumija and Kraljevac, or swim in magnificent laguna Krknjaši. If you have more experience riding a boat you can easily reach the most beautiful islands of Hvar, not too far from Trogir. Sail into one of the most beautiful ports in the world – island of Hvar (20 NM ori 1,5 hours drive), enjoy the untouched nature of Pakleni otoci or visit the natural phenomena on the island of Brač, the beach Zlatni Rat. While coming into the port of Trogir, the town walls, Kamerlengo Tower and numerous church bells will leave you breathless.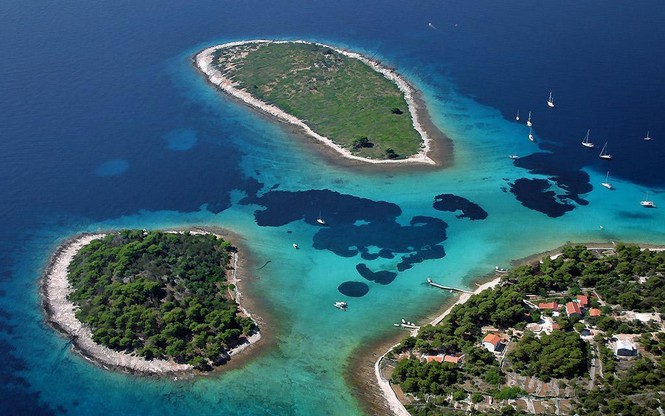 Many cultural and natural sights of "our beautiful land" (as Croatian people often call their country) are just a few hundred kilometers from Trogir.
If you stay in Trogir you have to visit Split and its famous Diocletian palace, perhaps you can spend some time in Salona too and explore the ancient metropolis of Roman province-Dalmatia. Pearl of Croatia, the town of Dubrovnik is only 3 hours drive from Trogir. Just across the border of Bosnia and Herzegovina there is one of the most beautiful towns of ex Yugoslavia, Mostar.
One of the famous sights is National park Krka, and the town of Šibenik with impressivecathedral in its vicinity. A bit further, on your way to the capital Zagreb, about 2,5 hours drive from Trogir you can visit unique National park Plitvička jezera.

OTHER FACILITIES

You can find anything you want in Trogir. Its streets abound in different shops, jewerly stores and souvenir shops.
Bigger supermarket Konzum with its wide offer of products is located at the entrance to the town. Next to it you will find a fish market with fresh fish brought by local fishermen and just in front of it a big market where you can buy local products, fresh fruit and vegetables sold by grannies. Stone house next to the market you will find the butcher Tangar with fresh meat.
There is also a veterinary station, and across the street the main bus station. In the vicinity there are hospital and farmacy.
Post office, public pay phone for international calls as well, and currency exchange office are located in the old part of the town.